The Venture Bros: Mad About Mid-Century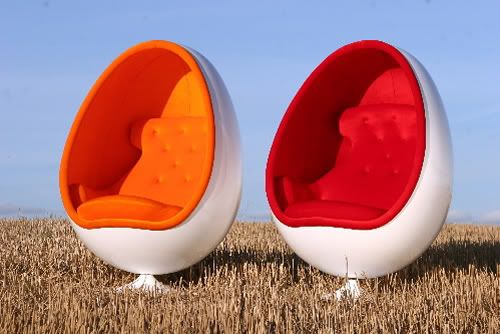 Dr. Venture: The Egg. It is the symbol of creation and since your age it has hatched all of my super science ideas!
If you love The Venture Bros. as much as I do, you may have noticed a consistency in art, style, furniture and architecture. This retro motif is called Mid-Century Modern and practically every scene around the Venture compound features this look. Most notable on the show are the authentic modern chairs, which include selections from Eames, Corbusier, Bertoia and modPod. Below is a short list of the modern chairs seen on the show.
modPod Egg Chair – The more elongated "Egg" or "Pod" chair was originally designed by Thor Larsen and dubbed the "Ovalia chair. " It was subsequently copied by various companies in America including modPod, usually including the built in stereo speakers. The original egg chair design from 1968 featured a fiberglass shell and nylon/wool interior.
Bertoia Wire Bar Stools – The light and airy design of the Bertoia Wire Bar Stool belies its strength and durability. This classic furniture design employs chromed steel for support and a black leatherette seat pad for comfort.
Eames Office Chair – Developed in 1958 for Herman Miller, the refined appearance and comfortable suspension of Eames Aluminum Group Chairs have kept them in demand today. Their continuous seat pan and back creates a firm and flexible sitting pocket, rather than a separate seat back and seat pan like most chairs.
The LC4 Chaise Lounge – This lounge chair is the most successful of Le Corbusier's designs and was first exhibited at the Salon D' Automne in 1929. The design features an external frame made of highly polished stainless steel. The cushions are made of multi-density foam for firm support and plush comfort. The frame is easily adjustable, making it a great reading chaise as well as one that is perfect for sleeping for an extended period of time.