Shallow Gravy Production Art by Dave Johnson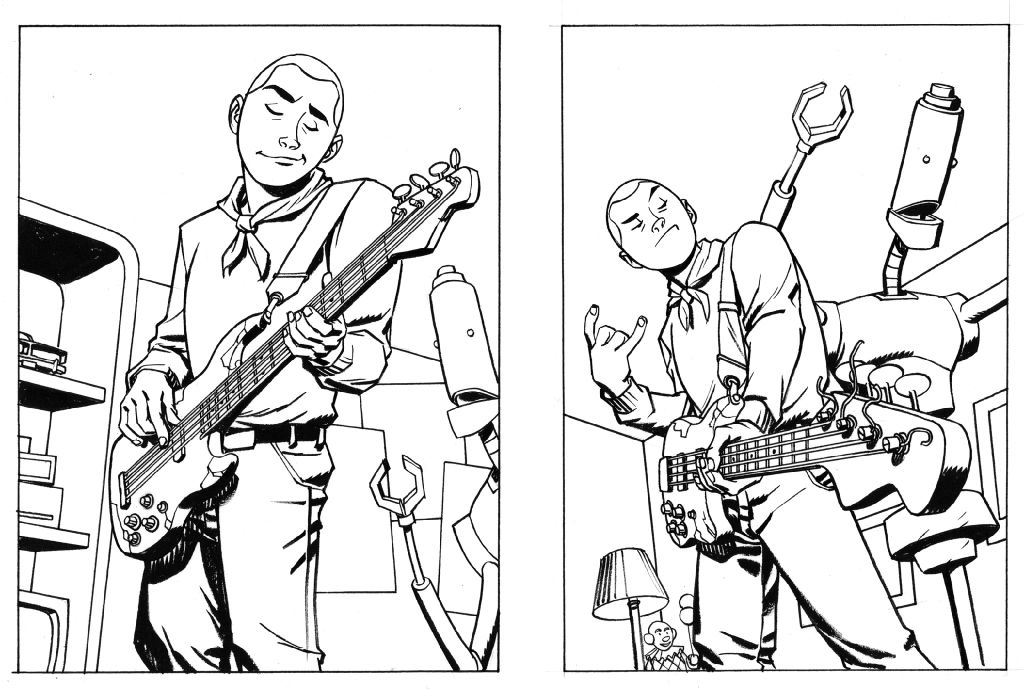 Shallow Gravy production art by Dave Johnson. Johnson illustrated these pieces for the new Venture Bros. Special, 'From The Ladle to The Grave: The Story of Shallow Gravy.' Art includes Dermott's year book, family portraits and pictures of the band.
ABOUT DAVE JOHNSON
An officially ordained Methodist Deacon. "Reverend" Dave Johnson may be best known for his minimalist covers on the noir Vertigo series, 100 BULLETS. He has done all 100 covers. He has also done a number of covers for DC. Primarily Batman and DETECTIVE COMICS Dave also worked with Erik Larsen on the mini-series Super Patriot. He is also known for his work with Marvel comics on Deadpool. Dave is the principal founder of "Drink and Draw", a get-together of professional artists that spawned an art book by the same name. Johnson earned the 2002 Eisner Award for Best Cover Artist. He was also nominated for an Eisner in 2004 for his work on the critically acclaimed DC Elseworlds miniseries SUPERMAN: RED SON, which is now a perennial best seller in graphic novel form.
For more info on Dave Johnson, Visit his Deviant Art profile: http://devilpig.deviantart.com
[nggallery id=46]
Discuss this story in our Venture Forums! Follow @VentureBrosBlog on Twitter and be sure to "LIKE" us on Facebook for the latest Venture Bros. news!
[
Venture Bros. Blog
]