New Venture Bros. Items for Team Fortress 2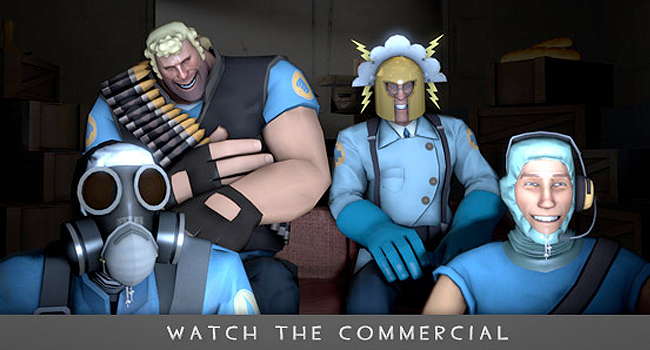 Looking to combine your enthusiasm for a new season of Venture Bros. with your fondness for team-based killing sprees? We have hats for that! Team Fortress has once again teamed up with Adult Swim for three new Venture Brothers-themed items. The terrifying Bacteria Blocker, the whimsical Weather Master, and the also terrifying Breather Bag are now available in the Mann Co. Store. And to celebrate both these excellent new items and the rich history of sales in general, Team Fortress is putting their existing Adult Swim items and bundles on sale.
» BACTERIA BLOCKER
The human face is nature's garbage can. Everything from saliva (make-outs) to grease (engine repair) to clumps of partially chewed beef (eating) to poison (food-tasting for kings) can be found on the average (your) face. Keep it marginally less filthy with the Bacteria Blocker.
» THE WEATHER MASTER
They called you INSANE when you claimed a helmet with foam clouds and lightning taped to it would give you weather powers! Now you'll show them! You'll show them ALL! Moo hoo ha ha ha! (This helmet does not give you weather powers.)
» BREATHER BAG
Since the invention of the garbage bag, humanity has longed to put it over its head. Until now, this usually meant immediate asphyxiation. UNTIL NOW! Plastic bag over your head? Breathing air? Thanks to the geniuses at FaceBagHole Co., you don't have to choose.
Not sold yet? Well then, we dare you to watch this TF2 commercial that ran during The Venture Brothers premiere last Sunday. Feel free to enjoy every one of its fifteen seconds – the final, desperate fifteen seconds of the crabby old you that refused to be sold.


Watch Team Fortress 2 "Adult Swim Extravaganza" TV Spot
---
Connect with us online! Follow
@VentureBrosBlog
on Twitter and be sure to "
LIKE
" us on
Facebook
for the latest in
Venture Bros.
news! [
Venture Bros. Blog
]