Venture Bros. Premiere Screenings Review [Spoiler-Free]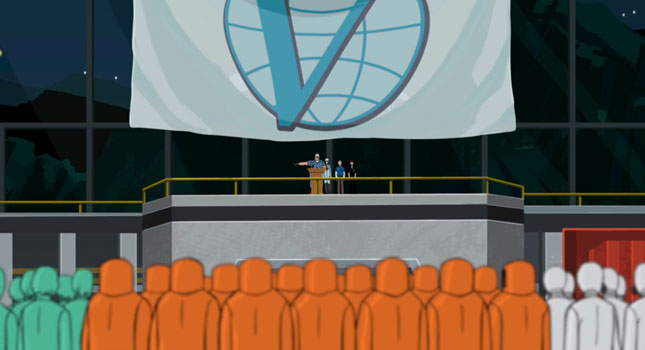 Last week, Venture fans in select cities got a rare treat. The opening episode of season five was shown on the big screen. I am fortunate to live fairly close to one of the participating theaters, Cinemaworld in Melbourne, FL. Seeing Operation P.R.O.M and What Color is Your Cleansuit? surrounded by other Venture Bros. fans, some who drove hours to get there, was amazing.
Before the episodes started, we were treated to a raffle. There was an assortment of prizes like action figures and gift cards, but the most coveted was the three pieces of production art. After my son won a Venture mug, I figured that was it for us. I was wrong. I managed to win the last piece of art, showing Brock tattooing a Henchman's face from Showdown at Cremation Creek Part 1.
Once all the prizes were given away, Operation P.R.O.M. started. It was the uncut version. (bonus) Without stopping, What Color is Your Cleansuit? came on. We recommend watching P.R.O.M. right before the new one. The episode itself is fabulous, in true Venture fashion. There's plenty of returning characters featured, and an important new one that's been an "extra" in crowded scenes since season one. Dean's still reeling from the disastrous prom night with Triana, and he's not handling it well. The Monarch is still in denial that 21 quit. Hank wakes up in a surprising place, and Rusty wakes up next to a surprise. Hatred gets some of unwelcome information. Pete and Billy get into a mess of their own. Rusty also finds himself in over his head, but as usual he doesn't think his incompetence is a problem.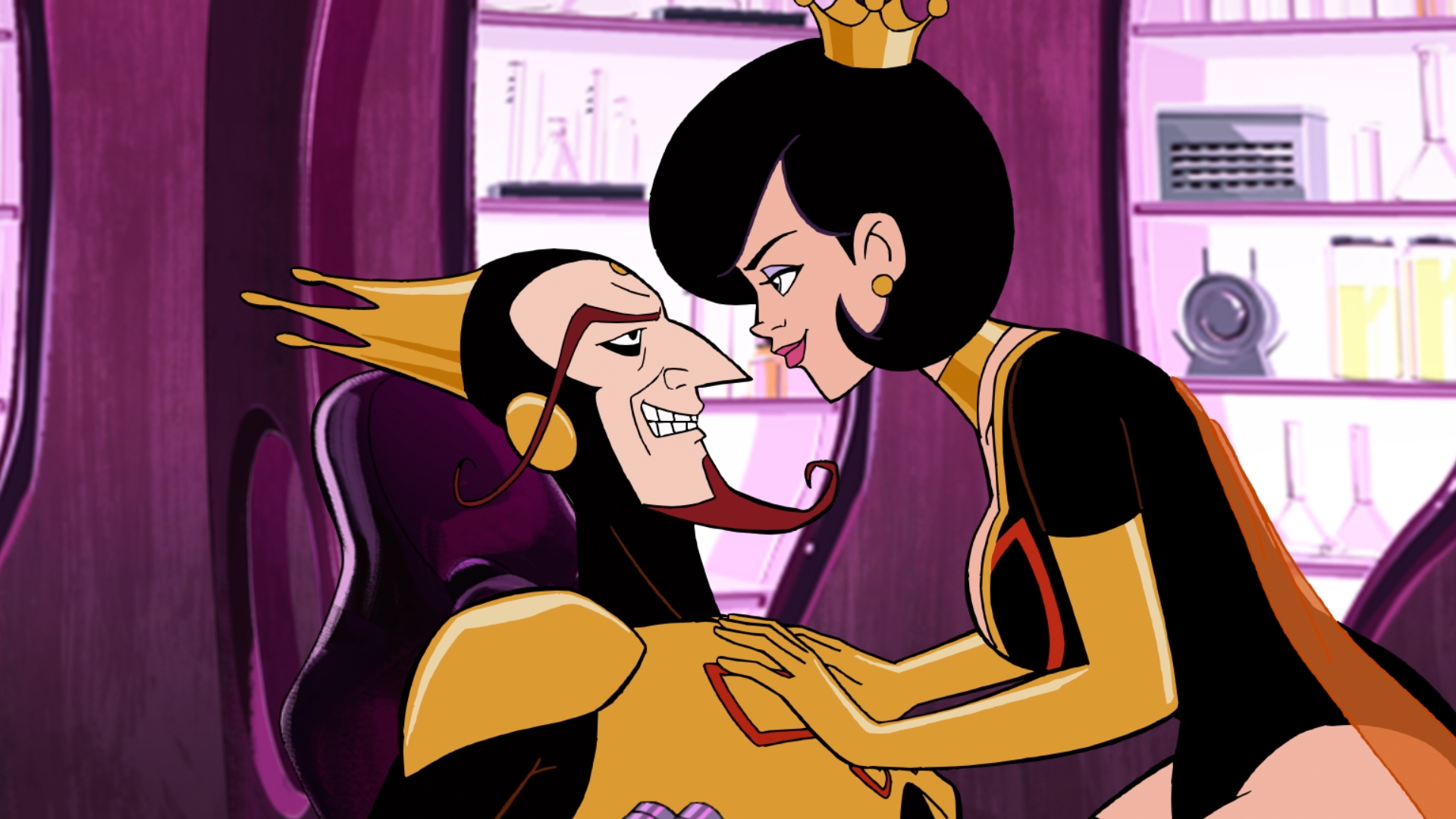 The episode is an hour-long, and it needs to be. Besides tying up some loose ends from P.R.O.M., it flawlessly juggles a few other plots. The entire episode was funny, filled with pop culture references, and of course, it leaves you wanting more. While it does clear up some things, it leaves other cliffhangers unanswered or gives them another layer of mystery. Perhaps it was the longer length, but Cleansuit really felt like a proper season opener. It blended old story-lines and added new ones without feeling like an information dump. It was paced well, and had a great mix of action and comedy.
The reaction in the theater was extremely positive. I'm sure we all missed quite a few jokes because of laughing through them. But, Venture fans know that's usually the case and repeated viewings are required. We also know that there's always people who can't get into a new season. (remember the outcry over Hatred replacing Brock as bodyguard or just the confusion over the timeline in the first episode of season four) If anyone at the showing felt disappointed, they didn't make it known. After it was over, everyone got a poster detailing the Venture Family Tree, who's related to whom or who arches whom.
The reaction online to the new season has also been great. Plenty of people tweeted that they loved the new episode, some calling it the best yet. Twitter user @spookychan gave a glowing review calling it "Nerdiest episode." Another user, @felixincognito called it "the most epic and amazing piece of pop art to date." @ConnerGSims tweeted that the episode "owned" and was "astounding. " These are just a few of the reactions to seeing the episode, there wasn't a "meh" or "it sucks" in sight.
Fans in Brooklyn made even those of us lucky enough to go a screening jealous. On May 29th, Nitehawk Cinema hosted a premiere screening with Jackson Publick and Doc Hammer, taking questions from the audience and signing autographs. If the first episode is making everyone happy as it seems to be, season five could be the best yet. I'm really looking forward to this new season of the Venture Brothers!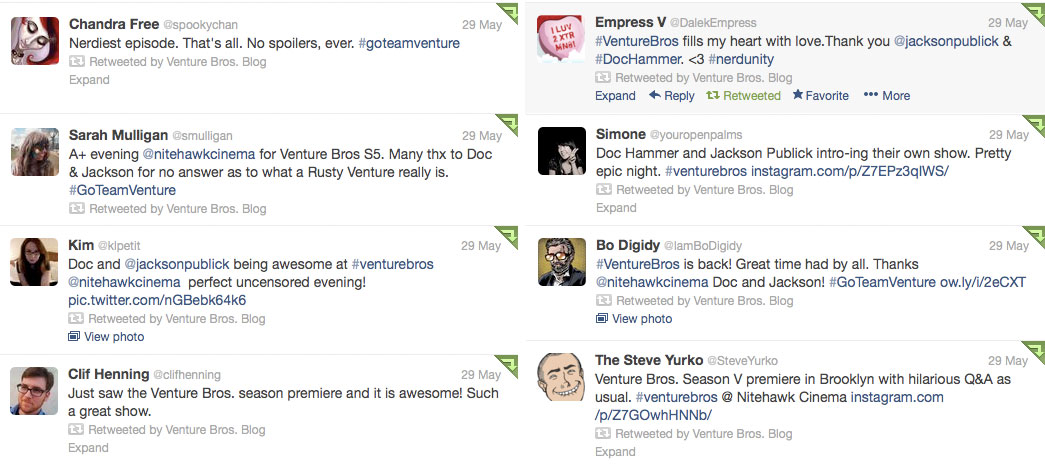 The fifth season of The Venture Bros. picks up moments after the stunning climax of season 4 and hits the ground running for a season of globe-trotting adventure and stay-at-home suspense. But no matter where it runs—from the steamy jungles of Central America, to the sparkling sands of the Greek Islands, to the seedy back alleys of Tangier, to the jagged cliffs of By-Golly Gulch—the Venture family can't escape the treachery of enemies old, new, and within.
In season five, The Venture Bros. welcomes the guest voice talent of Aziz Ansari, Paget Brewster, Wyatt Cenac, Kevin Conroy, Bill Hader, John Hodgman, Gillian Jacobs, Kate McKinnon, Tim Meadows, J.K. Simmons, and Brendon Small. Created by Jackson Publick and written, directed and executive produced by Publick and Doc Hammer, The Venture Bros. Season 5 is being produced by Titmouse, Inc.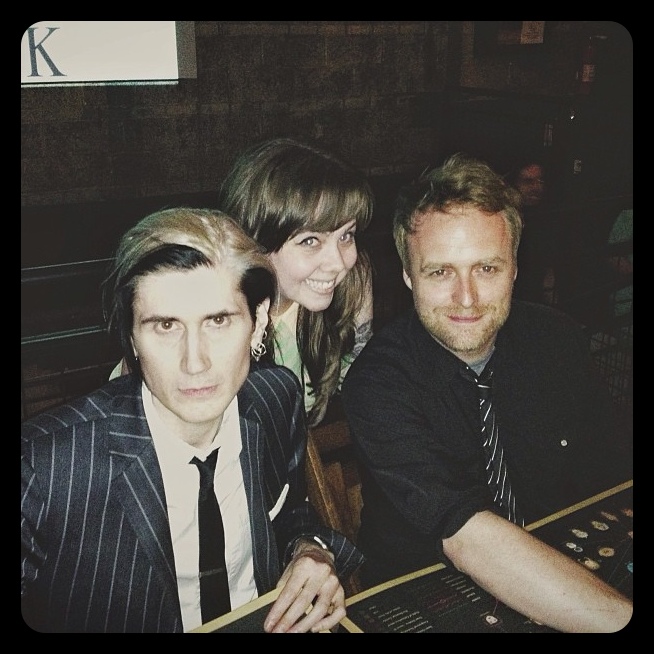 [nggallery id=98]
---
Check out the minute-long sneak peek at "What Color is Your Cleansuit?" from Adult Swim!
---
Connect with us online! Follow
@VentureBrosBlog
on Twitter and be sure to "
LIKE
" us on
Facebook
for the latest in
Venture Bros.
news! [
Venture Bros. Blog
]