Weep Plays Littlefield March 8th

Doc Hammer's band WEEP will be headlining a show at Littlefield in Brooklyn. Come see the band play their hearts out on Friday, March 8th! Doors open at 8:00pm.
WEEP is New York band whose music combines elements of Ethereal Wave, gothic rock, shoegazing, and synthpop. Formed in 2008 by singer and guitarist Doc Hammer, formerly of Requiem in White and Mors Syphilitica and co-writer for the animated television series The Venture Bros., the band's lineup also includes bass guitarist Fred Macaraeg, keyboard player Alex Dziena, and drummer Bill Kovalcik.
For more information visit, WEEP's Facebook Page or on Myspace at weeptheband.
Littlefield
Address: 622 Degraw St., Brooklyn, NY 11217
Website: http://www.littlefieldnyc.com
Tickets: http://ticketf.ly/Y8vVgd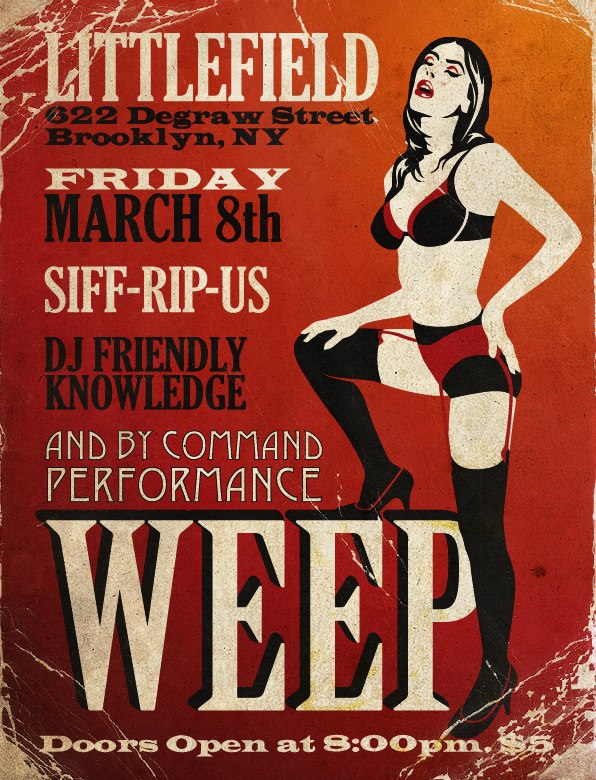 Connect with us online! Follow @VentureBrosBlog on Twitter and be sure to "LIKE" us on Facebook for the latest in Venture Bros. news!
[
Venture Bros. Blog
]