The Venture Bros. Season 5 Recap by Henchman 21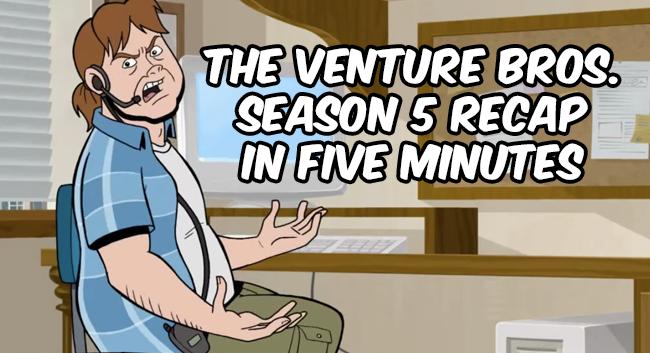 Not caught up with the latest episodes of the Venture Brothers? Adult Swim has released a 5-minute recap of Season 5, narrated by Henchman 21 himself (Doc Hammer). And if that's not enough for you, Adult Swim is streaming all the seasons of Venture Bros. every week until the Season 6 Premiere! Watch on Adult Swim's website at the link below, no login needed!
New episodes of The Venture Bros. premieres Sunday, January 31st at midnight (ET) on Adult Swim!
Launched on Adult Swim in August 2004, The Venture Bros. is an inspired spoof of 1960s action cartoon shows such as "Johnny Quest." The animated series follows the bizarre misadventures of the Venture family, which includes world-renowned Dr. Venture, his dimwitted sons Hank and Dean as well as Brock Samson, their bodyguard assigned by the government to keep an eye on the family who is then promptly forgotten by the Feds.
Are you excited for new episodes? Sound off in the comments below!
Stay tuned for the latest in Venture Bros. news! Follow @VentureBrosBlog on Twitter and be sure to 'LIKE' us on Facebook!
[
Venture Bros. Blog
]