Venture Bros. Family Tree and Video Recap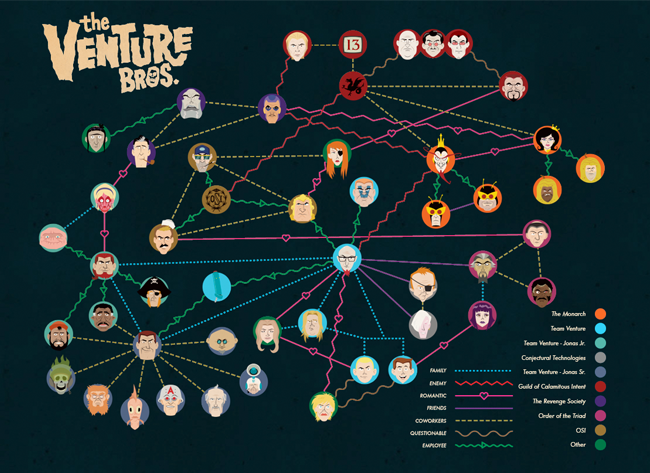 Adult Swim has published a family tree on the Venture Bros. entitled the Official Relationship Action Map. The map is an interactive soundboard that plays character quotes and depicts the various relationships and group affiliations in the series. Check out the map link below to track the ever-expanding universe of the Venture Brothers!
If you're new to the Ventureverse, the series follows the story of Dr. Venture, his boys Hank and Dean, and their ex-bodyguard, Brock Samson. View the video below for a full recap of the past 4 seasons, narrated by Gary (formerly Henchman 21). Also, be sure to check out Adult Swim's montage section on YouTube, because who doesn't like montages?
The Venture Bros. is created by Jackson Publick and is written, directed and executive produced by Publick and Doc Hammer. Season 5 of the Venture Brothers premieres on Adult Swim with an hour-long episode on June 2nd at midnight!
The Venture Bros Season 1-4 Recap in 8 Minutes
Connect with us online! Follow @VentureBrosBlog on Twitter and be sure to "LIKE" us on Facebook for independent news and information on Adult Swim's the Venture Brothers!
[
Venture Bros. Blog
]