Official HankBuck Towel from AstroBase Go!

The Venture Bros. "Amazing Shirt of the Week Club" is coming to a close, more and more people are receiving their Extra Glorious Color shirt and wonder "What the hell am I supposed to do with all these HankBucks?!" The answer is Towel.
That's right! "AstroBase made you a damn towel! TOWEL!!!"
Show creators, Jackson Publick and Doc Hammer reveal a new HankBuck Towel can be ordered by mailing back your HankBucks for an club member discount. Each HankBuck is a dollar discount on this giant 36×60″ HankBuck Towel.
Not a Shirt Club member? No problem! The HankBuck Towel is available to everyone and can be ordered at the link below.
Now's your chance to get that towel you've always dreamed of! A 100% cotton, massive 36 x 60 inch, impressively absorbent GIANT HANKBUCK! You'll be a hit at the beach, spa, gym, home shower, or any place a towel is fashionable. Show your "Venture Insider Pride" with Hank's smug face wrapped around your midsection! Let Hank Tender keep you warm, dry and stylish all year long.
DOC HAMMER: All true. The AstroBase made you a towel!
If you were a Shirt Club participant, you got some Hankbucks laying around. Those Hankbucks (up to ten of them: because we will actually lose money because towels cost more to print than we thought BECAUSE the AstroBase liked the big Hankbuck idea so much that we didn't care BECAUSE we are morons) can be used as a discount on your Hankbuck Towel. See? You can make your Hankbucks giant and absorbent! It's a whole mail-in thing of course. BUT! If you don't have Hankbucks, or don't want to part with your Hankbucks, or don't feel like printing a page then filling it out and that crap… You can just get one all regular style ONLINE by clicking that little target thing! This towel is available to everyone! You have a right- NAY! NEED to have Hank's face remove your moisture!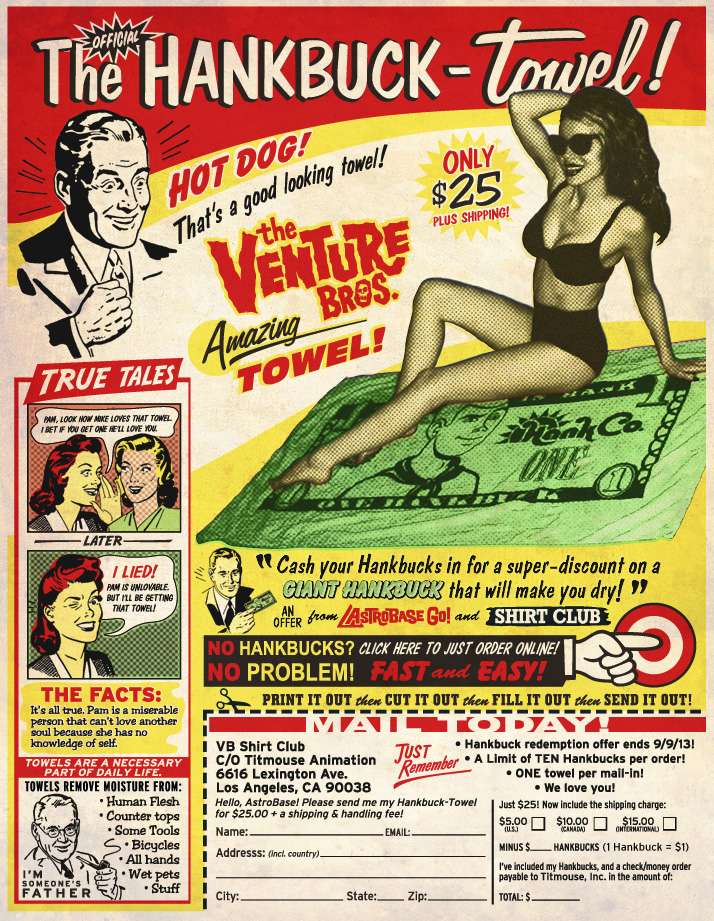 Source: Adult Swim


---
Connect with us online! Follow
@VentureBrosBlog
on Twitter and be sure to "
LIKE
" us on
Facebook
for the latest in
Venture Bros.
news! [
Venture Bros. Blog
]