New Venture Bros. Gargantua-2 Wearable Items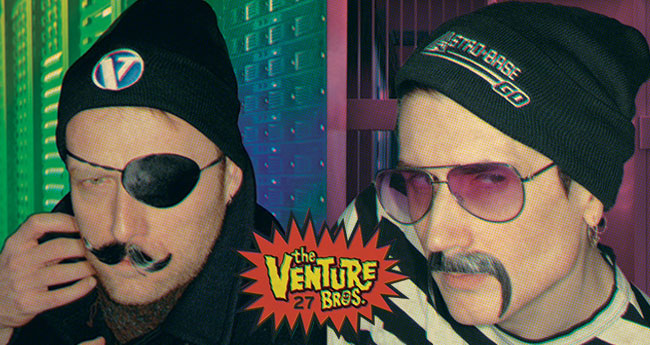 The new Venture Bros. Special "All This and Gargantua-2" brings with it a plethora (well, 3) of new wearable items including the Gargantua-2 hoodie, the New Venture Industries Cap, and of course, the AstroBase-Go Cap! GO TEAM VENTURE! These items are just 2 Gargantua-2 2 pass up!
---
This fine American Apparel zip-up hoodie has both Jonas Jr's new Venture Industries logo AND the logo for his technological masterpiece, Gargantua-2, embroidered on the breast and sleeve (respectively).
This fine garment is an exact replica of the one seen on the new Venture Bros special "All This And Gargantua-2" (if a hoodie was in the episode). It's perfect for layering with your winter coat to fight the chill of space, and then just leaving it on when spring arrives! Look better than anybody you know in this first-quality garment designed by AstroBase-Go! Because they love you!
Grey American Apparel hoodie with beautifully embroidered Gargantua-2 and Venture logos!
---
SPOILER ALERT: The Ventures just inherited J.J.'s New York facility. And it looks like the new Venture Industries logo comes with it. Show your pride and pity for the Venture family as they begin again and spend their blood money on fun! This knit cap with embroidered Venture logo brings you up to date with your completely official Venture Bros. uniform. It's a winter hat, sure, but we swear that some people in New York wear these things all fucking year.
Say "goodbye" to bad hair days and "hello" to looking swell! So why not…"Go Team Venture!"
Black knit beanie with the 2-color Venture logo embroidered on the front!
---
Aboard the Moon-orbiting AstroBase-Go, the course of your favorite cartoon semi-hour is plotted!
Jackson Publick and Doc Hammer, along with a crew of nervous robots called SoulBots, work tirelessly in an oxygen-poor environment to bring you The Venture Bros. Here's your chance to stop complaining about how long it takes these poor, overworked astronauts to make a season, and support them. Nay, JOIN them! Become one of the crew with the official headwear of AstroBase-Go.
Wearing this knit black beanie with the embroidered Go-Logo proudly says "I live near the Moon!"
Black knit beanie with a white AstroBase-Go logo embroidered on the front.
---
THE FINE PRINT
SHIPPING
The ordering period for these limited edition items begins Jan 20, 2015, 1am Eastern Time and ends promptly Feb 3, 2015, 1am ET (YOU do the math, middle-earth and west-coasters). After that, we'll print ONLY what was ordered in those 14 days — so please allow 3-4 weeks for delivery from order date.
PROBLEM?
In the unlikely event of a screw-up on our end, however — say, we send you the wrong size or something — we will of course exchange the offending item for the proper one, at our expense. Please contact us at [email protected] to alert us to the problem. A sentient being will help you out!
---
Connect with us online! Follow
@VentureBrosBlog
on Twitter and be sure to "
LIKE
" us on
Facebook
for the latest in
Venture Bros.
news! [
Venture Bros. Blog
]