Telltale's Poker Night 2 Game Review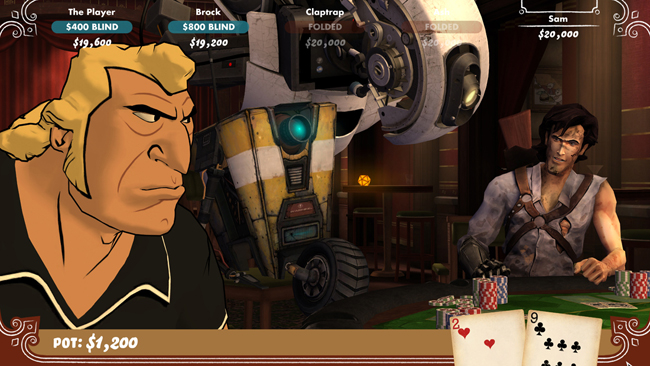 Telltale's Poker Night 2 video game isn't just for fans of poker. It stars a few favorite characters from gaming and pop culture like Claptrap from Borderlands, GLaDOS from Portal, Ash from Evil Dead, Sam from Sam and Max, and of course, Brock Samson. Brock is actually the first character you met when you start the game. He leads you to the poker tournament area, dropping Brock-isms the whole time. He calls the building a "frigging maze," and tells another character that "things got a little stabby" in the room he just exited. Time to play some cards!
As Brock and your nameless character get comfortable, the others are introduced. GLaDOS plays as the dealer, while the five of you sit around the table. Characters trade quips, make observations like Claptrap's "this place looks like Boardwalk Empire meets Silence of the Lambs." He also asks Brock to be his bodyguard. I never thought I would see GLaDOS dump confetti on Brock's head, but it's in there. There are plenty of memorable quotes and exchanges, but I don't want to spoil them.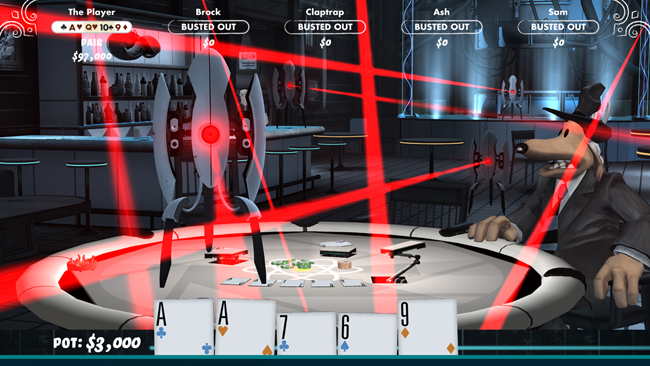 Maybe you're like me and not great at poker, but wanted the game for the characters (especially Brock). That's okay because Poker Night 2 has amusing tutorials covering the two styles of play. It even has interesting "history" of the styles. For example, did you know Texas Hold'em was created because dealers went on strike due to hand cramps? I don't think anyone knew that. The other style, Omaha, has an equally amusing history lesson. Omaha is unlocked after playing your first hand.
Even if the tutorials aren't enough to understand what's going on, there's a handy cheat-sheet that be looked at during the game. The tutorials can also be replayed. You have a few options during the game like "fold" "check" and "bet." You can also clearly see your cards and the community cards on the table. You start with $20,000 and once your money is gone, you're out of that tournament. It might seem overwhelming if you're not a poker player, but the game and the rules are easy to pick-up. The only problem, of course, is that you never know what the other characters are holding.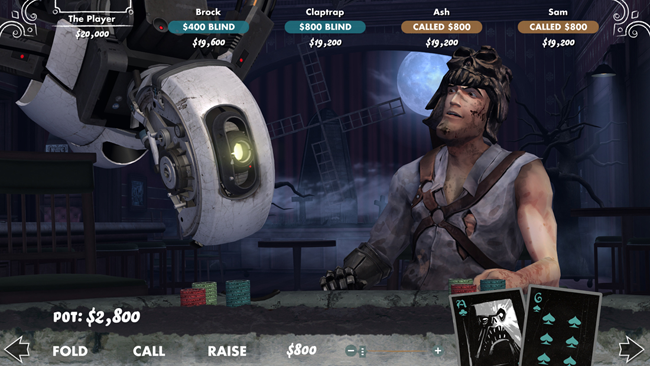 Each character does have "tells" or a sign of what sort of hand they have. You can buy drinks to loosen the characters up a bit, so their tells are more noticeable. After the first hand, you unlock bounties. These are challenges you can complete to earn rewards like Xbox 360 avatar items, PS3 themes, or hats for Team Fortress 2 on Steam. The bounties are a list of three things you need to accomplish. You can do these challenges in different tournaments. To get the rewards, you need to play for them, even after you do the bounty tasks. It could take a long time to unlock everything, but it certainly adds replay value.
While it's a poker game at its core, Poker Night 2 is still very entertaining. Try this: deal a hand then leave it alone. Maybe get a snack or a bowl of Apple Mummy. If you take too long to do anything, the characters start complaining and talking to each other. It's cool to find an amusing game that you can leave alone without the nasty side effect of your character dying because you're shoving pizza in your face.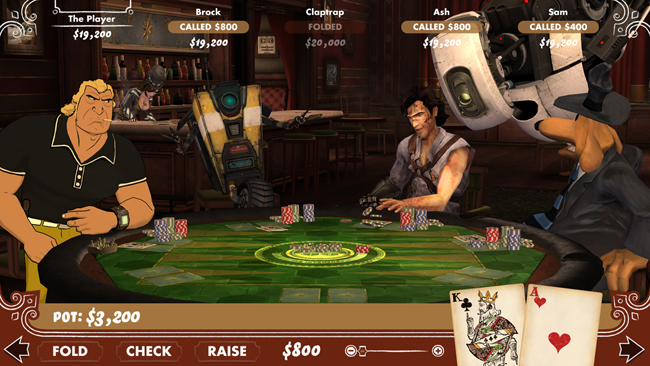 There really isn't any major problems I noticed with the game. It gets a little lag, but nothing game breaking. Sometimes you hear the same line a few times, but it seems there's plenty of quips you haven't heard before when you replay. It's a game with a simple concept: play poker and listen to some very different characters shot the breeze. And Brock stares at you like he's going to murder you most of the time, so that's a plus in my book.
Poker Night 2 is available now for download on Xbox Live for 800 Microsoft Points and on Steam for $5.00. Poker Night 2 will be released on Playstation Network on April 30 in North America for $10.00.
[nggallery id=97 template=Telltale Game's Poker Night 2]
Connect with us online! Follow @VentureBrosBlog on Twitter and be sure to "LIKE" us on Facebook for the latest in Venture Bros. news!
[
Venture Bros. Blog
]