New Shirt Club Launched for Venture Bros. Season 5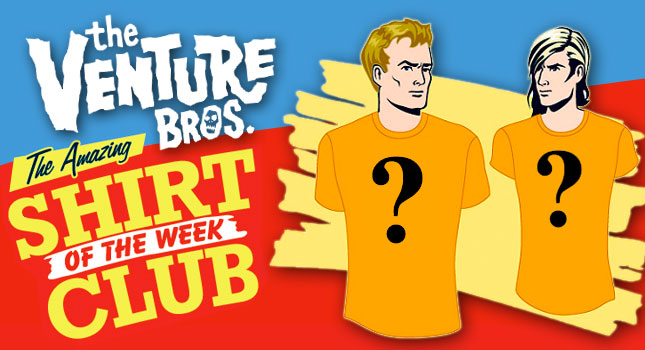 AstroBase Go! launches a new Amazing Shirt of the Week Club subscription, one week before the Season 5 premiere of the Venture Bros. on Adult Swim. The new Shirt Club subscription is available through June 9th with individual shirt orders beginning June 2nd at midnight.
New Shirt Club price is $20 per shirt or $165 for the full subscription. According to the Shirt Club Info Page, 9 new shirt designs will made available for each episode. Two shirts will be released for the hour-long premiere of "What Color is Your Cleansuit?"
DOC HAMMER:
It's back, and it's better than ever! Better prices, better- okay, that's the end of the "better" rant, because the first SHIRT CLUB was awesome, and this one is equally as awesome. Little has changed. It's still Jackson and I designing everything and making sure that you get shirts right from the gravity challenged Astrobase, directly to your torso! Skip on over to the Astrobase, read the illustrious history of SHIRT CLUB, see our old designs, and if you are ready to be a member of the highest tier, get yourself a SUBSCRIPTION. Pleasure awaits!
How does it work? Shirt Club will release a new t-shirt designed by the creators of the Venture Brothers every week. When the week is over, so is the shirt. At the end of each shirt's run, they will no longer be offered, guaranteeing you super-cool elite status, and the owner of a collector's item.
Click on the link below and be whisked away to a cooler new you!
---

OUR ILLUSTRIOUS HISTORY:
» Read full info on AstroBase Go!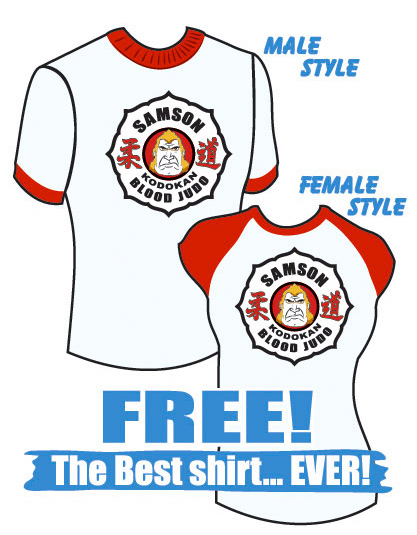 In 2008, at the start of The Venture Bros. Season 3, the inhabitants of AstroBase Go (a moon orbiting space station) had a simple idea: "Let's give Venture fans quality t-shirts straight from the source!" And that source was none other than the human geyser of Jackson Publick and Doc Hammer, the creators of TV's "The Venture Bros. Fun-Time Semi-Hour." Their simple idea was SHIRT of the week CLUB.
On this humble website, they offered a shirt to whoever was out there with a web connection, PayPal account and a hunger for beautiful T-shirts.
Each shirt was only available for one week, and then immediately discontinued to insure its collectibility and rarity. There was no second chance. Opportunity knocked and then left without so much as a note taped to the door.
Each shirt was made to order, as the AstroBase only printed what was ordered.
Each shirt was was designed (from concept to mechanical final) by Doc Hammer and/or Jackson Publick, without a middleman to get the fetid smell of corporate cologne all over it.
[nggallery id=39]
Each shirt donned a design specific to the episode it was sold in conjunction with, thus assuring a deep, geeky, insider connection to The Venture Bros. The very definition of "The Real Deal."
Each shirt was lovingly packaged by an intern that probably wanted to learn more about animation than packing shirts.
When Season 3 ended, so did Shirt Club. It became the cottony stuff of legend. Bootlegs of a lesser quality sprang up on eBay, and other abusable commerce websites. Some of Shirt Club's "insider" concepts and graphics leaked into other Venture merchandise, both authorized and bootlegged. Original Shirt Club participants enjoyed a special feeling of being there. Many were treated as Kings and Queens at places where the the knowledge of Venture Bros. was esteemed. When two Shirt Club clad insiders would pass each other in public, a secret hand gesture was raised. Many of them are now married or amicably separated former intimate partners. They are the coolest of the cool.
---

NOW SHIRT of the week CLUB IS BACK: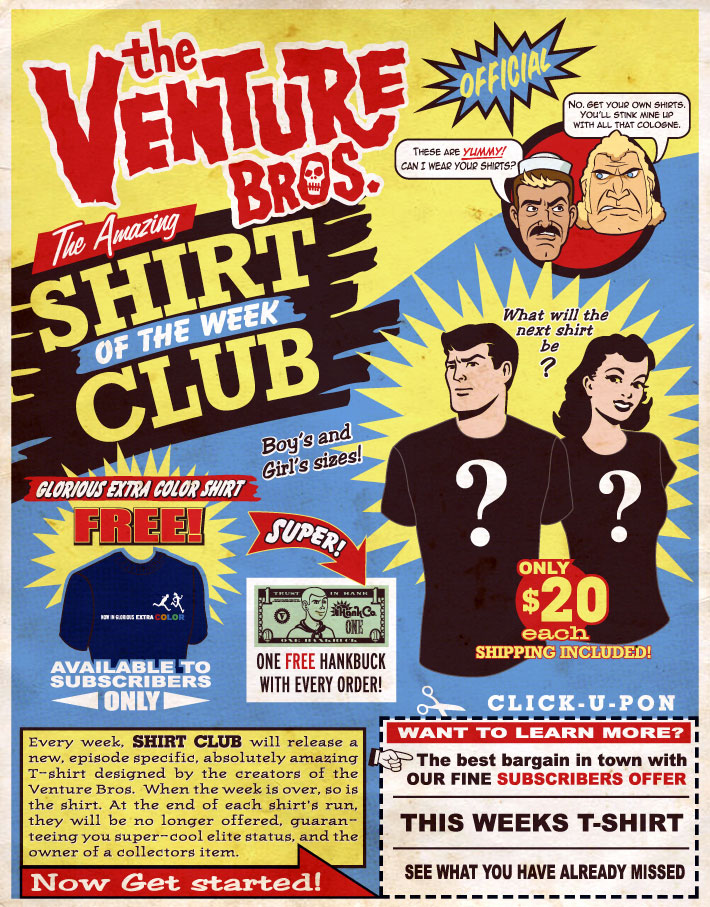 After a 5 year hiatus, Astrobase Go has brought back Shirt Club to celebrate the much anticipated Venture Bros. Season 5. Destined to be the greatest moment in animation history (until the premiere of Season 6), Season 5 starts off with a bang, then a shirt comes flying out!
Little has changed with Shirt Club, and that which has changed is for the better!
Each shirt is STILL only available for one week, and then immediately discontinued.
Each shirt is STILL made to order, and the Astrobase will only print what is ordered.
Each shirt is STILL designed (from concept to final) by Doc Hammer and/or Jackson Publick.
Each shirt STILL dons a design specific to the episode it is sold in conjunction with.
What has improved?
Each shirt is NOW packed and shipped by paid professionals, freeing up interns to learn animation and the fine art of running errands for those who are comfortably on payroll.
Each shirt is NOW less expensive than they were for the first Shirt Club. I know! That's nuts! Does the Astrobase love you more now than they did 5 years ago? Yes they do!
Each shirt NOW comes with $20 in Hank Bucks! What are Hank Bucks? It's fake money with Hank's face on it, and it may someday be redeemable for merchandise, prizes, or whatever!
You know the score. Opportunity has knocked twice. You snooze, you lose. Venture fans, this is your proudest moment! You know that Official Venture T-shirts are as rare and beautiful as albinos, and ones created by the actual Venture brothers are even more rare, and like five times more beautiful… What are you going to do? Answer: SHIRT CLUB!
This is really last minute stuff.


Connect with us online! Follow @VentureBrosBlog on Twitter and be sure to "LIKE" us on Facebook for independent news and information on Adult Swim's the Venture Brothers!
[
Venture Bros. Blog
]