Venture Bros Season 6 Shirt Club Shirt Designs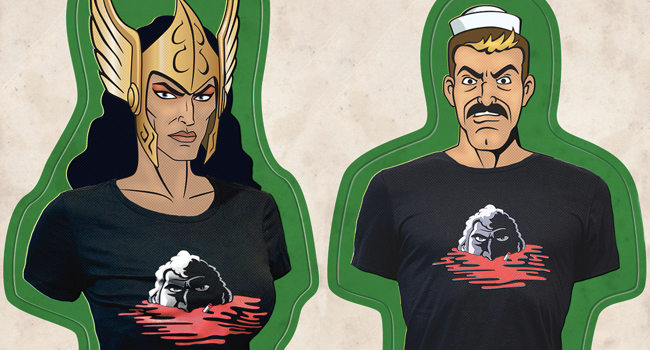 Amazing Shirt of the Week Club is back! This sixth season, 8 brand new episodes will be premiering, which means AstroBase Go be premiering 9 new t-shirts, plus a bonus shirt for those who purchase a full subscription! Stay tuned, each week Adult Swim will premiere a brand new episode of The Venture Bros. on television and AstroBase Go will premiere a brand new t-shirt design online! Each shirt will be on sale for only one week!
---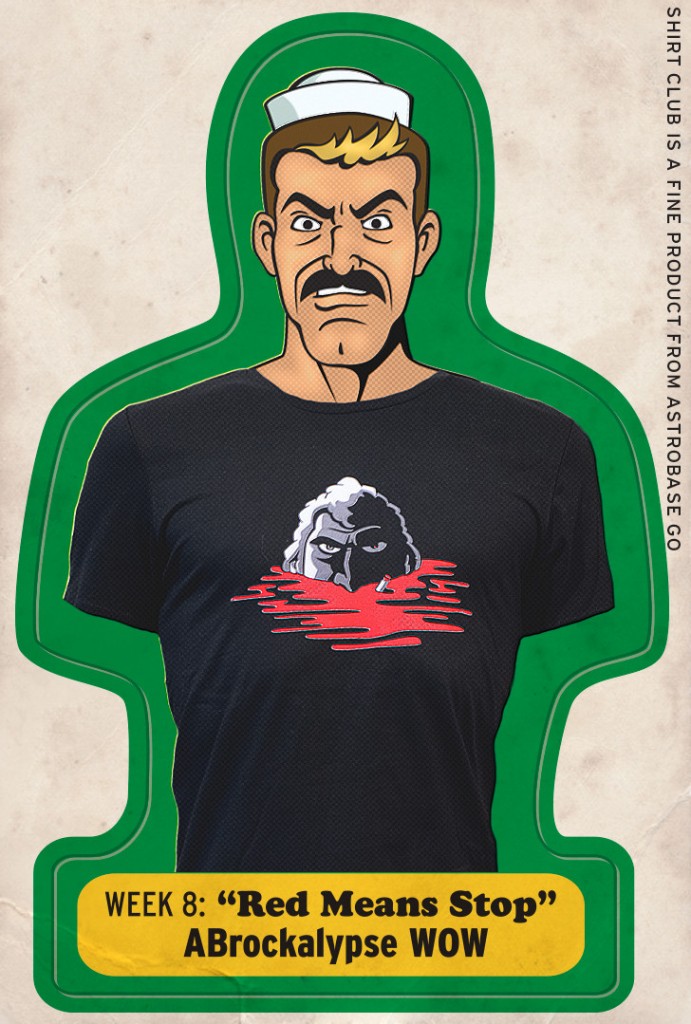 What's black and white and bled all over? Brock Motherf#*@$-ing Samson, that's what. Semi-submerged in a pool of blood, staring down your enemies from the cold, black void of this, our last Shirt Club offering of the season.

Seriously, how long have you waited for a kickass Brock shirt from us? Like, since VB Shirt Club started in 2008? How many lavender Quizboys, beige Deans and brown lady-Hanks have we made you suffer through?

Your wait is over. DIVE IN.
---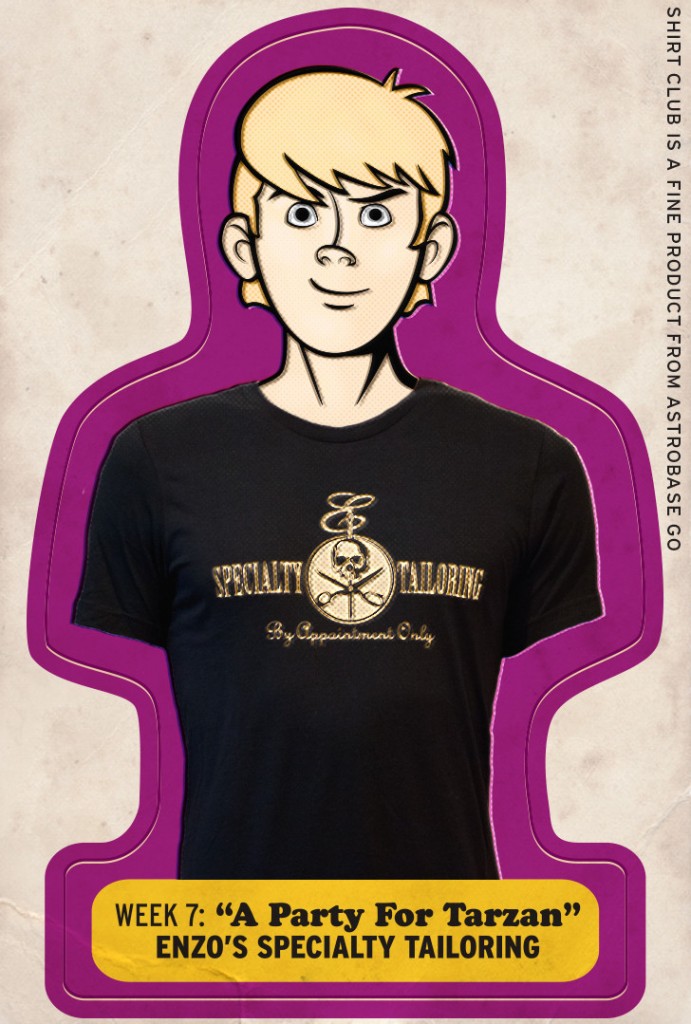 For decades, one name has been synonymous with fine quality custom adventure wear: Enzo. Superheroes, super-scientists, super-villains alike, all come to Enzo. Because Enzo knows that even the finest fabrics and immaculate fit don't count for much if your secrets aren't safe. But Enzo never tells.

It's in this spirit of discretion that Shirt Club proudly offers the "Enzo's Specialty Tailoring" t-shirt — a shirt that says "I'm a fan of The Venture Bros., but I don't have to be all gauche about it." Handcrafted in always-classy black, with the vaguely Medici-an Enzo crest in luxurious gold. One look, and you know it's an Enzo. Because there's an "E" on it.
---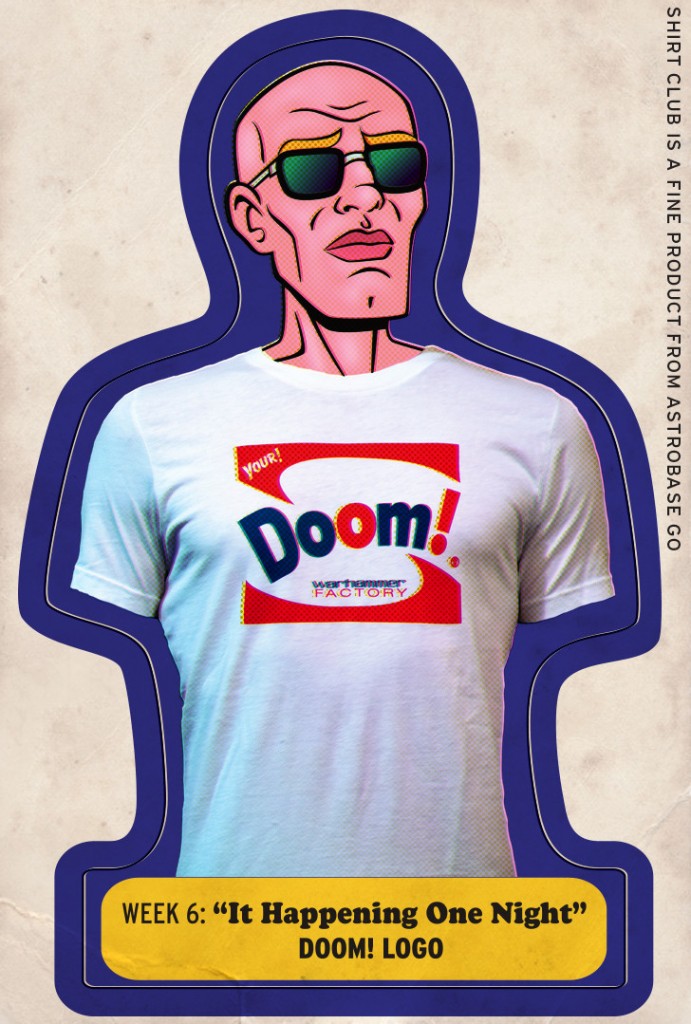 What costume shall you wear to all tomorrow's parties? You'll be a Superstar when you take it downtown in our latest post-modern masterpiece, featuring the 2-color Doom! logo hand-screened on a 100% combed cotton canvas of pure white light/white heat.
---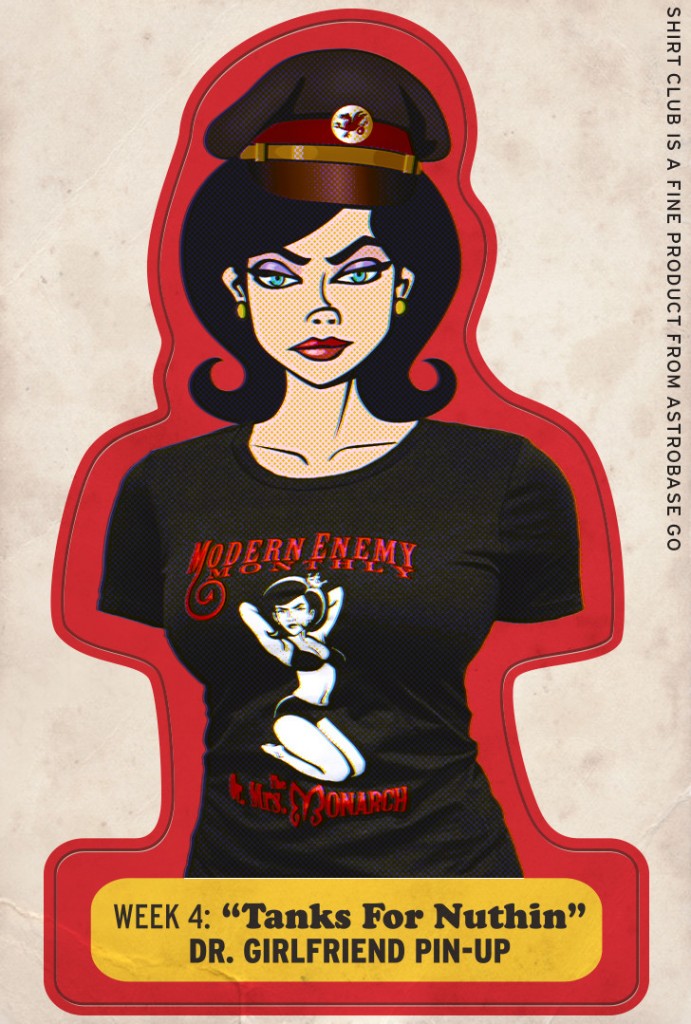 Modern Enemy Monthly knows just how to boost subscriptions with their famous annual Bathing Costume Edition. This year, Dr. Mrs. The Monarch gets the coveted centerfold. Her name might be a confusing mess, but her career is a clean line straight up The Guild of Calamitous Intent cooperate ladder! This smart black T-shirt with white-hot, scowling sexuality is a must for every Modern Enemy Monthly subscriber, and Dr. Mrs. The Monarch Née Girlfriend fan.
---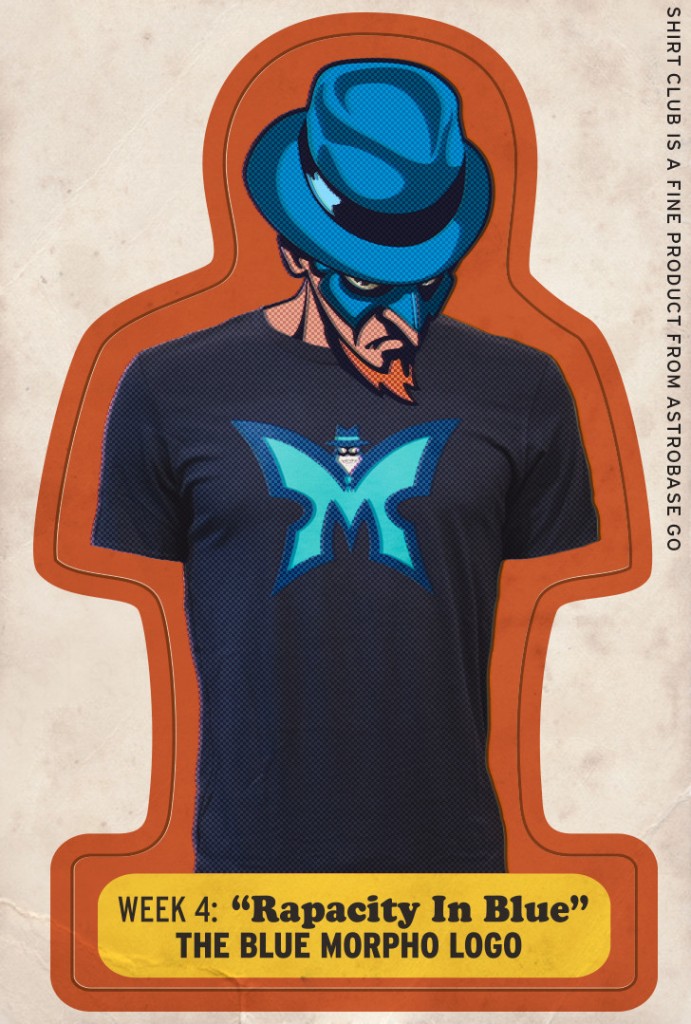 Superheroes and Supervillains get all love these days. But what of the morally ambiguous vigilante? Isn't it time they get some warm, cottony affection from your hot torso? Show your love publicly with this blue-on-blue-on-blue T-shirt featuring the logo of The Blue Morpho. Make sure everyone sees your allegiance with The Monarch's birthright, and over 50 years of doing "Kinda the right thing, maybe!"
---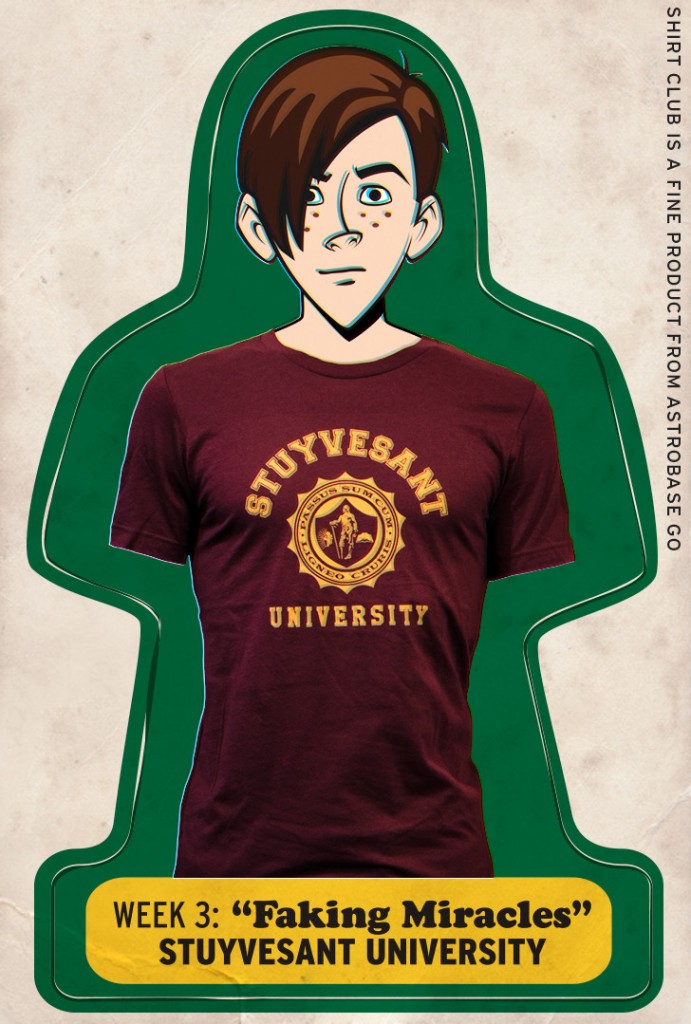 Why drop $150,000 on a 4 year private university education when, for just $20, you can look smart in the maroon and marigold of Stuyvesant University, the finest fake institute of higher learning in the nation, and alma mater of Dean "Deanie V" Venture — as seen on TV!

You'll be the Valedictorian of Vogue in our 100% cotton collegiate couture as you lord your evil genius over all those chumps at the bar who are still paying off their student loans from Adams College and Gotham U — just like ol' Peg-Leg Pete lorded over New Amsterdam!
---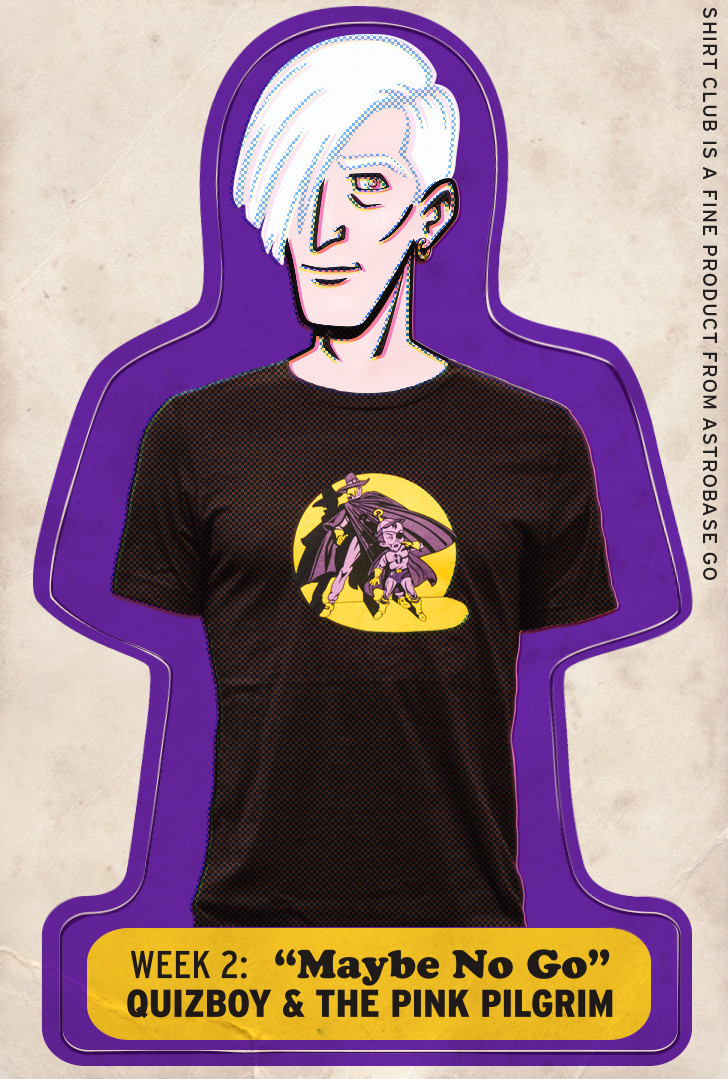 Shirt Club is honored to bring you the finest Billy Quizboy and The Pink Pilgrim shirt ever produced! A stunning yet elegant 3-color retro-design, sitting powerfully on a throne of gently aged, black jersey-knit cotton.

It's true, this may be the first Billy Quizboy and The Pink Pilgrim shirt ever. It may even be the ONLY Billy Quizboy and The Pink Pilgrim shirt ever. But these facts only deepen our claim that it's The Finest Billy Quizboy and The Pink Pilgrim Shirt Ever. You deserve only best! Here it is! And only for a week!
---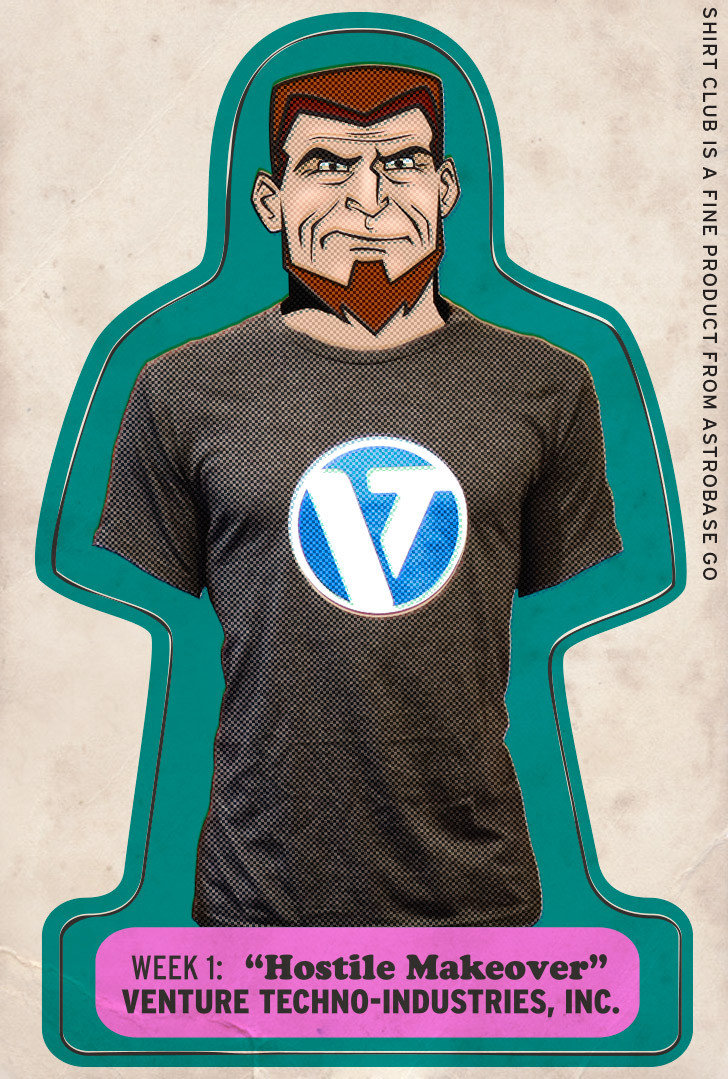 The more things change, the more they stay the same…New season! New city! New corporate re-branding!

Enjoy the new Venture Techno-Industries Inc. logo—a streamlined modernist update on the classic Venture Industries V logo that would make Saul Bass blush—boldly emblazoned upon a luxuriously dark grey heather t-shirt that's equally at home in the boardroom or the home gym.

Go ahead and allow yourself, just this once, to don a corporate logo t-shirt. Because you're not really "selling out to the man" when that man is Dr. Thaddeus S. Venture, and he and his corporation are totally fictitious. All you'll be saying with this corporate logo is "Go Team Venture!"
---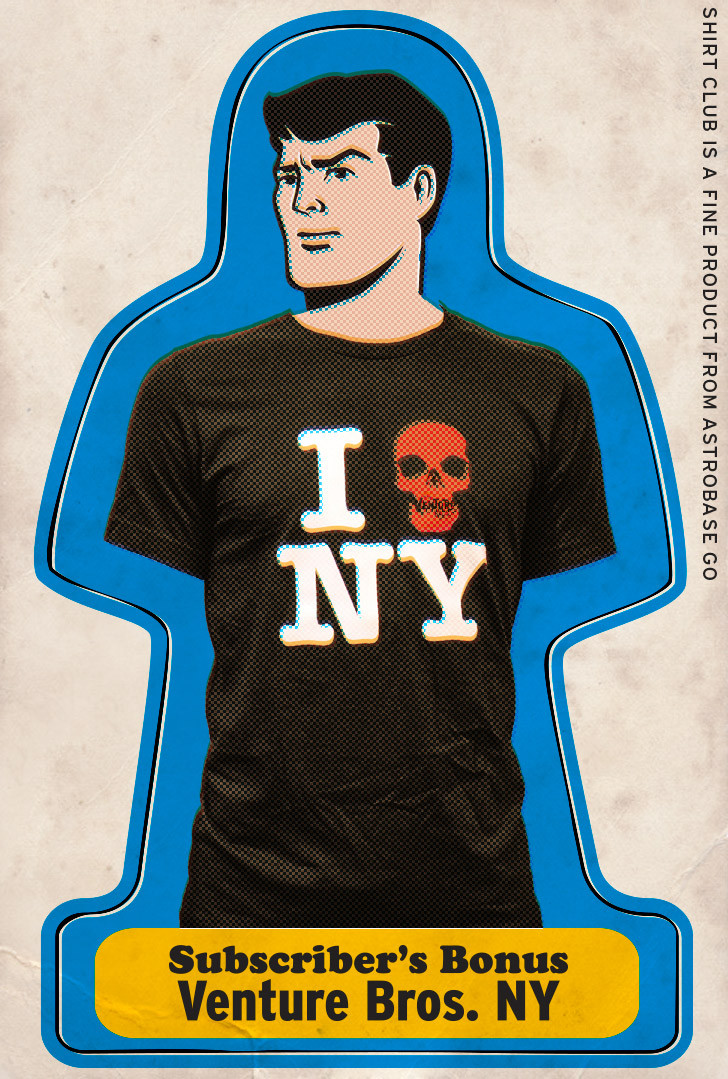 Here's your chance to be part of the grand tradition of the deep insider. Venture Bros. creators Jackson Publick and Doc Hammer created SHIRT CLUB to bring you insanely limited edition (one week run, made to order) T-shirts that they themselves designed. Each shirt ties smartly with each week's episode. There's no middleman second guessing everyone's wants, just the creators going "Look, you need this! It's cottony love emblazoned with inky truth!"
via Jackson Publick
---
Connect with us online! Follow
@VentureBrosBlog
on Twitter and be sure to "
LIKE
" us on
Facebook
for the latest in
Venture Bros.
news! [
Venture Bros. Blog
]