Venture Bros. "Venture Libre" Recap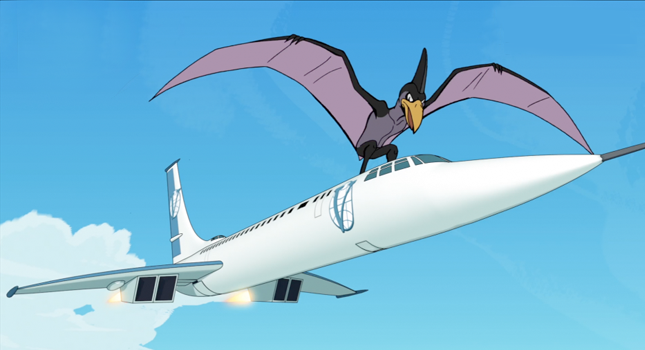 Warning: This article contains minor spoilers, we recommend you watch the Venture Bros. "Venture Libre" episode first. Click here to download the episode – http://bit.ly/11CppRS
Venture Bros. Venture Libre sprang forth from the Astrobase as a thrill-a-minute, action-packed joyride. In this installment, viewers were treated to a return to the classic outbound adventure motif, of the Jonny Quest variety. All aboard the X-1, and blast off to a remote and exotic location to track down a long-forgotten member of the Venture clan… well, except for Dean, of course. Dean's transformation due to learning the truth of his origins has, as of the last episode, caused a shift in the young protagonist's demeanor; a pale of no fuck's given has settled upon Dean Venture, and it looks pretty good on him. Never too late for a little teenage rebellion, especially given the shattered time-period of his development. But never mind what's happening back on the compound! Murphy beds hiding behind walls be damned, we have a high-stakes adventure going on, people.
Aboard the X-1, Hank, Hatred and Rusty prepare for an assignment delegated by General Manhowers through technology so current, it's impressive that ol' Doc figured it out even half as well as he did, despite issues with the screen. Manhowers has tasked Doc to track down a former invention gone rogue.
En route, the X-1 is attacked by a prehistoric flying terror, bent on thwarting their mission. In the jet-pack and parachute frenzy that follows, Hank is separated from his father and bodyguard… and shows off his highly impressive, Brock-trained survival skills.
Meanwhile. Hatred and Doc show off their less than impressive survival skills; a mixture of dumb luck and frenzied running in the face of an army of mutant anthropomorphic animal soldiers.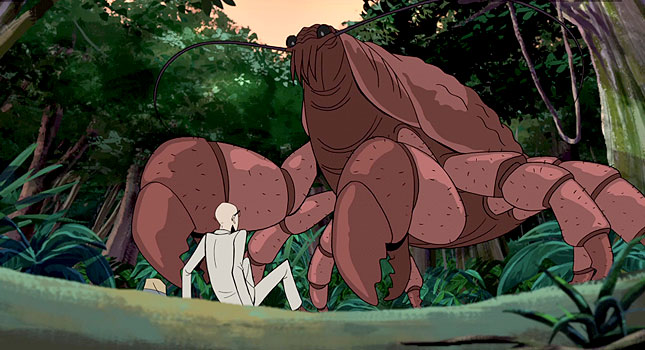 Doc gets knocked out by a colossal crab, and wakes up to a familiar face, who now speaks with far more coherence and passion than our original encounter with him would have lead us to believe possible. In a heart-wrenching story of social injustice, Doc's long-missing invention extols upon his creator the good work he has done to liberate his fellow misfits from the gross of evil scientists who seem to always come to the deep heart of the jungle to conduct their experiments. Animal liberation, ya'll! I'm into it. Their tender reunion is cut short, however, by the revelation that Doc has been tasked by the government to destroy their haven, rather than assist. Doc and Hatred are imprisoned, and await their fate.
MEANWHILE!
Hank's new-found penchant for coffee berries has him stirred-up in the gut and in the head. it's all poop-jokes and spiritual heroics from here on out, as Hank enters a long-derelict ceremonial cave and allows himself to become… The Bat. Only this time, our Hank Bat is the real deal; he swiftly sows panic among the ranks of the mutant army, hitting each and every target, following a thorough and well-conceived plan. Who IS this masked man?? As Doc frets and Hatred suffers from flashback night terrors, The Hank Bat rescues them from possible demise and heads for the beach.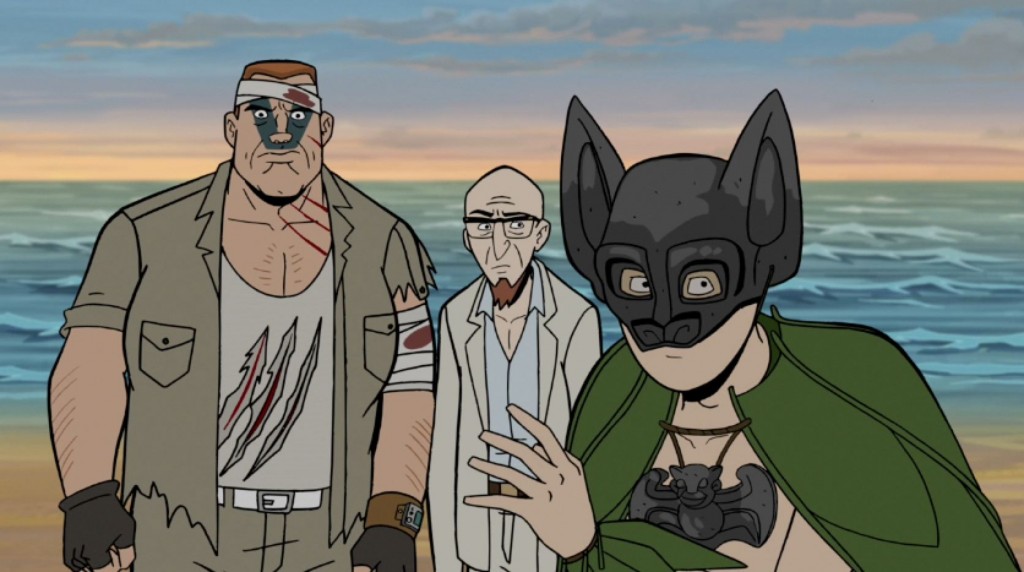 ONE MORE MEANWHILE!
Remember Dean? After Attempting to fix H.E.L.P.eR, only to have the sweet robot respond to Doc's distress call and head out, Dean encounters an annoyance in the form of a politician. Congresswoman Backwood, upon hearing that Doc had been tasked by Manhowers to the deep jungle, charters a chopper to find him in order to further her political cause that much more thoroughly.
THUS!
Three threads of plot wind together as one, as H.E.L.P.er arrives fresh from the belly of a whale just as Backwood arrives just as the army of mutants advance upon the shoreline.
BIG BADABOOM
As the episode concludes, Doc proves that he's far better equipped than all the king's horses or men, as he puts Congresswoman Backwood back together again, setting the stage for a Genosha-style haven for all the misfits and mutants of the world to live together away from the probing of scientists.
In the post after-math, it would seem that Dean has developed a specific skill-set of his own, in robot maintenance; his change in aesthetic, however, may have compromised the drumming style of Shallow Gravy.
---
Source: Adult Swim


---
Connect with us online! Follow
@VentureBrosBlog
on Twitter and be sure to "
LIKE
" us on
Facebook
for the latest in
Venture Bros.
news! [
Venture Bros. Blog
]